So you have finally decided to make a change in your bedroom. Good for you. Your bedroom is your own personal sanctuary, the place where you can truly relax and enjoy the late chit-chats and cuddles with your man. Besides the furniture, soft bedding and subtle lighting, curtains play a great role in achieving romantic and cosy atmosphere. My bedroom is white, light and airy and I managed to break up the dullness with several cream/grey details. But when it comes to the curtains, I stayed true to the white colour, and I bought the light and breezy white sheer contemporary curtains. Personally, I love sheers as they give me a little privacy while still allowing the daylight to come into my bedroom which I love. However, depending on my mood, I sometimes match them with side drapes in cream colour, giving my bedroom elegance and style all-at-once. In order to help you, I have decided to put a list of the most popular and appealing bedroom styles with contemporary curtains that will make your bedroom more sophisticated and comfy.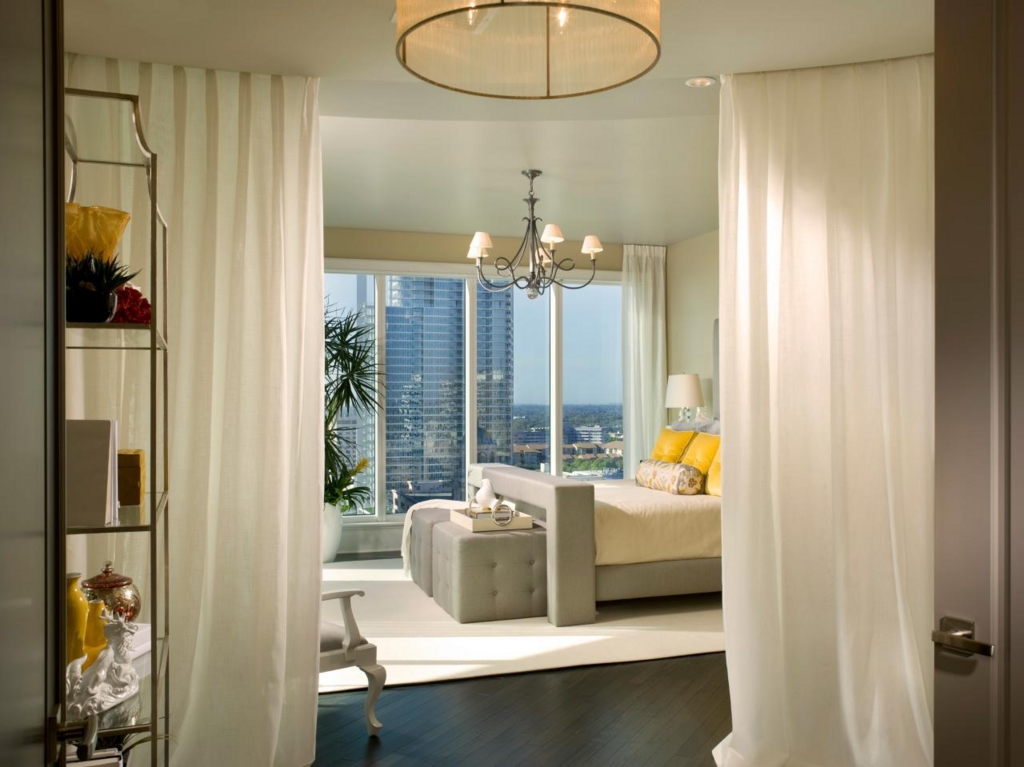 Serenity and Tranquillity
In case your bedroom is like mine, all about comfiness I suggest you try with some white silk curtains. Instead over your windows, you can place them at your bedroom's entrance to create a soothing atmosphere and bring some life into your space while looking at the stars at night from the comfiness of your bed.
Simplicity & Luxury
In case you are one of those lucky people who have a spacious bedroom with large windows, I suggest you to make your bedroom even more luxurious by adding floor-to-ceiling contemporary curtains or to be precise draperies in soothing blue or any other colour that will match your bedding and furniture.
Modern & Dark
If you are a fan of dark colours, I suggest you mix colours. For example, if you have dark furniture bedroom pieces and bed frame matched with walls in lavender colour, I suggest you to add chocolate-brown draperies. Along with the night lamps in white and metallic the draperies will add a soothing tone in your contemporary looking room.
Simple but Interesting
The dark brown night stands and bed frame of your bedroom will go perfectly with some dual-material draperies that will add an interest to your neutral looking bedroom. For example, you can choose a sheer material for the upper part of your windows in order to allow daylight to come in, and velvet material for the bottom part of your curtains to add some drama.
Save