The clothing pieces we wear can often serve as powerful forms of creative personal expression. Fashion is a refined art with the body as the canvas where the stylists craft a unique outfit picture with the help of their wonderful artistic tools in the shape of clothing pieces and accessories. Ever since I was a little girl I've been captivated by the creative world of fashion and the only thing I wanted to do when I grow up was to become a famous fashion stylist that would help people put together a killer outfit. Fast forward to today and my love for fashion hasn't faded one bit and best of all I get to do what I love the most. I've been a stylist working from home for almost four years now so my day usually consists of welcoming clients, mixing and matching different outfits, flickering through fashion magazines for inspiration and of course let's not forget my biggest source of inspiration- watching Paris fashion shows. For me these unique fashion shows are a true spectacle and France is the home of fashion.
I visited the country for the first time a few years ago and had the opportunity to explore the unique and elegant French style from up close. Now, when you think of France you probably imagine the chic Parisian look that is opulent and luxurious, but there is much more to the French style than meets the eye. The vintage Bobo style is an important part of French fashion and is a short term for bohemian and bourgeois, which are a truly unexpected and unique match. It's much more relaxed and casual than Parisian style and we can almost say that it's inspired by the rustic charm of Provincial France. The thing I love the most about this fashion style is the effortless elegance it reflects. So, I try to include a touch of Bobo whenever I can in the chic outfits I put together for my clients.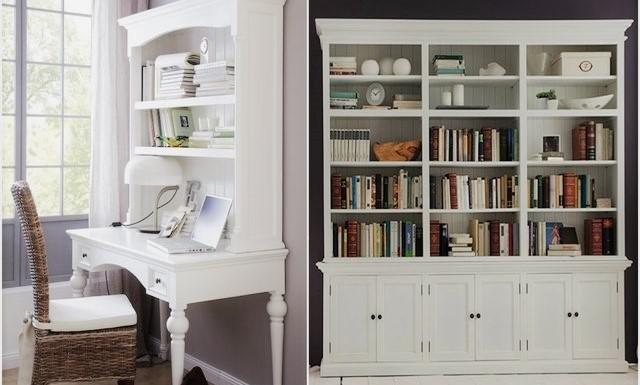 But, the outfits I create are not the only thing that reflects a bit of that vintage charm, my workspace is the place where I also try to display my admiration with everything French. I've wanted to redesign my office for quite some time now, but never got the chance to do it due to lack of free time. But, when I moved house six months ago I didn't have any excuse not to dedicate myself to an office design project. After all my office space is where I do most of my styling projects and I wanted the new workspace to be a true representation of myself and my work. I picked the largest room in the house for my office and immediately started with my design project.
I wanted the space to be bright and airy, showcase my love for French fashion in an elegant way and of course reflect an inviting and comfortable ambience. I figured the best way to infuse my office with rustic yet elegant flare would be through the beauty of white French provincial furniture. During my stay in France I had the chance to visit a house designed in French provincial and I really liked the manner in which the white furniture pieces were crafted to give the living space a touch of elegance and style, but in a subtle and discrete way. Casual elegance and chic comfort are the things that best describe the unique design of white French provincial furniture. Since I didn't have a lot of time to go from one store to another in search for quality furniture, I decided that the best thing to do would be to shop online. I found some gorgeous white furniture pieces online that perfectly captured the rustic French provincial flare.
The thing I like the most about online shopping is how affordable it can be, whit a bit of research you can find some great deals. Within two weeks my furniture arrived, so I was all ready to make my home office look all chic, elegant and comfy. I always have tons of clothing in my office so to arrange them neatly and display them to my clients I got two wardrobes with lots of hanging space. I went for ones made from kiln dried mahogany that feature hardware in vintage brass finish. To store my fashion magazines and catalogues I purchased a large hutch bookcase in a glossy painted finish with an open shelving unit. What attracted me to this piece of furniture was the adjustable shelving, which allows me to arrange all my magazines exactly how I want to.
From my main work area I chose a French country office desk with elegant shelving unit and a comfy rattan chair. The final piece of the office design puzzle was the seating area. As a stylist I like to welcome my customers in style, so to create a comfy yet stylish seating area I got a couple of rattan arm chairs with white cushions and paired them with white rectangle coffee table where I placed some magazines and a cute little plant to add a touch of greenery. As for decorations I kept things simple by arranging a few large mirrors in golden frames and a large art piece of the Eiffel tower. With all the furniture and décor pieces wonderfully arranged my home office was ready for some style magic!